Partnership: GetEquity X Cadana
Startups are constantly looking for the best ways to raise funds seamlessly and faster. At GetEquity, we provide a platform for startups to do this. But as startups raise money, their team grows. With the fast-paced nature of startups, it can be quite difficult to manage finances, employee payroll, and other operational activities on a […]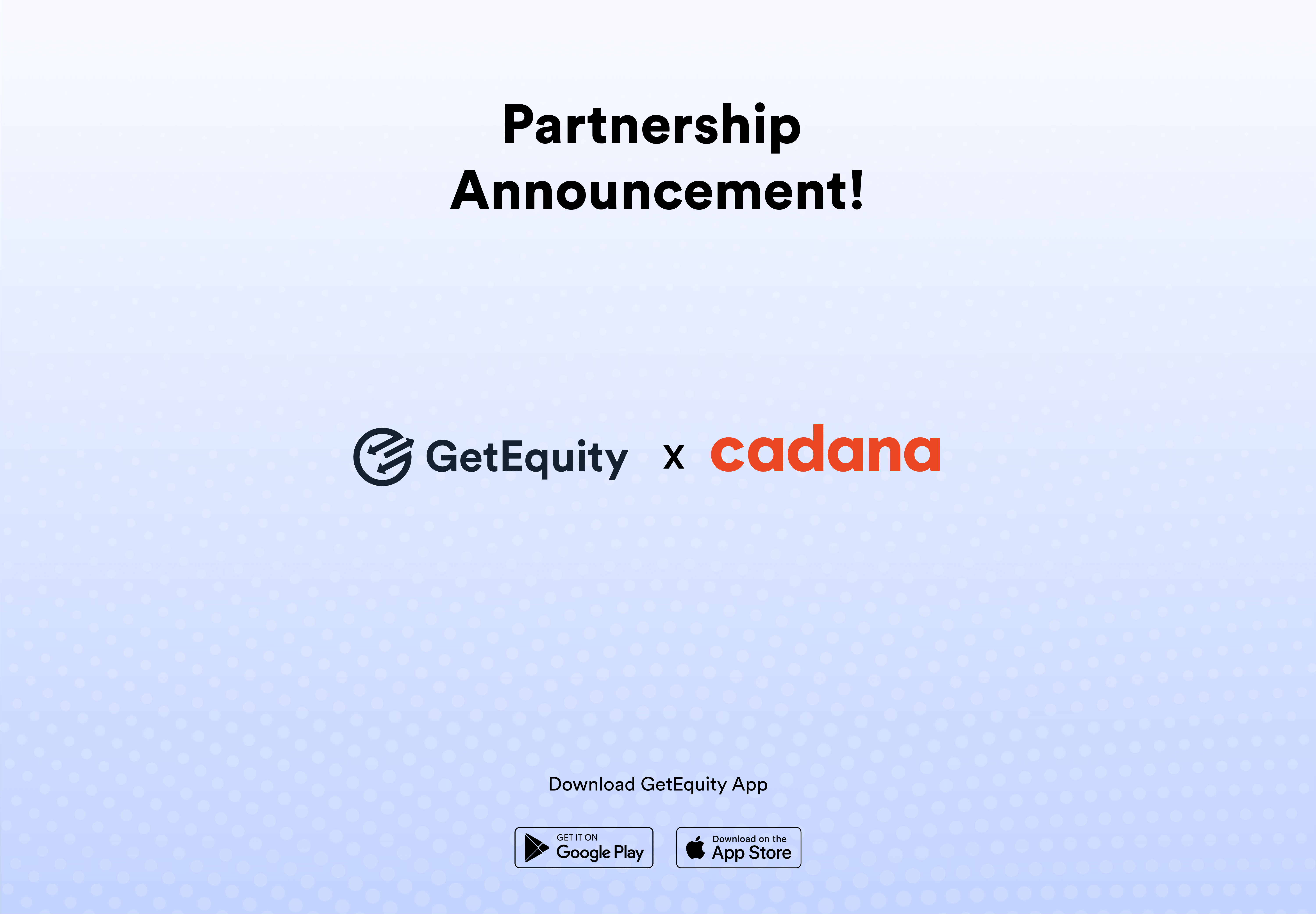 Startups are constantly looking for the best ways to raise funds seamlessly and faster. At GetEquity, we provide a platform for startups to do this.
But as startups raise money, their team grows. With the fast-paced nature of startups, it can be quite difficult to manage finances, employee payroll, and other operational activities on a weekly or monthly basis while still being focused on company growth and revenue.
This is where Cadana comes in.
Cadana InstantPay, empowers employees, salaried workers or contractors to withdraw a percentage, pre-set by the company, of their real-time earnings and instantly transfer it to their bank or mobile money account. This solution is also known as Earned Wage Access (EWA). Cadana allows startups to run payroll efficiently, provide payments and invoicing functionality all on a single portal to manage all their finances in 20+ currencies, including digital currencies, so startups can hire and pay anyone anywhere.
Thereby providing startups with the ease of running their business while also maintaining their staff and books in an efficient manner.
We are excited to announce that we have partnered with Cadana to provide 3-month free access to startups listed on GetEquity.These startups would have a chance to manage their payroll seamlessly while also giving their employees a chance to access their salaries ahead of time thereby creating a more productive environment for their staff.
Additionally, Cadana will pair each business up with a dedicated account manager who can advise on payroll and statutory obligations for the business.
Our Head of Growth, Temitope Ekundayo, has this to say about the partnership: "Cadana is building modern day tools to ensure employees are well compensated for the immense value they bring to businesses, now with a click of a button, payroll headaches are solved and productivity and employee welfare is taken care of for good which every founder knows is the topmost and vital priority for them, we are happy to partner with Cadana to provide more ease to our Startups in our ecosystem in our vision to ensure Founders and Startups have access to tools and resources that makes them scale better and reduce any stress they may have while building their businesses".
Albert Owusu-Asare, CEO and Co-founder, Cadana, also shares: "We believe SMB and startups are the backbone to the economy. We couldn't be more proud of this partnership with GetEquity. We are excited to provide real time, flexible and borderless worker payments experiences to accelerate growth for the GetEquity community. With Cadana, startup operators can focus on what they do best — growing their businesses.''